annayork
So... here's how my Camp NaNoWriMo experience went for April....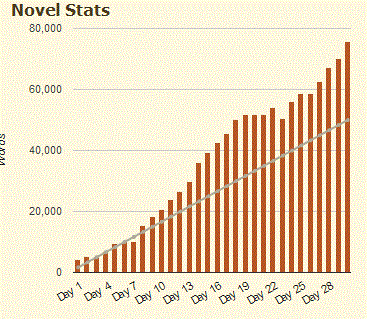 Basically, you can see the first week started off slow. Its quite evident when I left for the weekend as the stats for the 6-7 remain more or less the same.... was behind on the 7th, rallied on the 8th and worked steadily until I was gone the 19-21. ...
But, notice that dip on the 23? That was the Day of Suck. That was when, backing up my files, somehow, files on the computer and the flash drive decided to have a little deathmatch. Both lost. The drafts on BOTH devices were toast. Gone. All 54001 words vaporized. It was too horrible to be true. In ALL my years of using a computer, I've never seen anything like it.
LUCKILY at about 42500 words, I had emailed the draft to myself. I lost 11500 words in the process but 42500 words was better than 0 words and starting over again. I typed like my life depended on it that 24 hours and ended the day with a deficit of 3662 words. By the 24, I was ahead of the game again. So this NaNo session, I broke 50 K *twice*. I also emailed it to myself every 1000 words so this...never happened again. I spent the 25-26 taking a break from bouncing back from that word loss, playing with cover images, justifying it as past my goal and I had the freedom to play, and then got back to work .... soldiered on.
I've been changing titles. Book #1 is now
The Calm Before the Storm
(CBTS) and book #2 is
The Winds of Change
(WOC)
.
I have been getting CBTS ready for self-publishing on Create Space and have to wait longer to get my proof copy because... someone was too cocky making the text for the back cover and didn't check it well enough. So... once I can go in and make changes, I will have to wait a bit before I can order the proof copy. It's all well and good since I didn't want to put it out there until June 1 anyhow. Just frustrates me that I did something so carelessly.
TCBS's summary
wasn't
easy to write, and my idea of "Shit's about to hit the fan, but I'm just preparing the slingshot" wasn't ideal. So instead, I went with the following:
Life isn't always a beach in Waves, North Carolina...
Summer was the busiest time of year on Hatteras Island and the entire stretch of the Outer Banks. Tourists would come flocking in from everywhere, sometimes mingling with the residents. Everyone seemed to have the same goal: Get away from the mainland, clear their minds, and enjoy everything that Waves and Hatteras Island had to offer.
Fourteen year-old Waves resident Jeromie Greene and his friends Cara, Gayle, and Jody hardly have a care in the world. It's the summer before their freshman year in high school. The days stretch before them with the promise of days full of swimming, surfing, and maybe even a few romances with the constantly changing cast of tourists who visit their island.
Summer resident Doug Henshaw quickly befriends Jeromie and his group and soon, everything starts changing. Confessions, betrayals, and the desire to be accepted begin to dominate the thoughts of Jeromie and his friends. Can their friendships survive as they face the challenges that lie ahead?
I don't take it easy on these kids, either... but life only gets more complicated, and messed up, in the next book.
I'm going to write to a certain point in WOC before I put it away for July's Camp NaNoWriMo. I have enough "seed" material to get through several NaNoWriMo challenges. Expect to see more updates of shiny stuff relating to CBTS before I continue WOC.
As far as book #3 goes in my grown-up, chick-lit series... I'm holding it hostage for now LOL! I ended book #2 (
Why are YOU Still Single?!
) to a point where it doesn't need to continue, and depending on how into the Breaking Waves series I get, I may/may not continue it. I told my RL inspiration for grown-up series that I NEED more RL inspiration to continue (hence the "holding hostage") but it's tough when schedules conflict so much.