This is my latest endeavor. I have 15 more on the way next weekend when the new batch of rubber fetuses arrive....they're basically peppermint-scented "placenta" soaps with a rubber fetus inside, and of course, they're on an umbilical cord "rope". Yes I am sick. No need to remind me of what I already know ;-) Better yet, my first five have already sold and I am taking reservations for next weekend when I make batch #2!
Click to see full size images :-)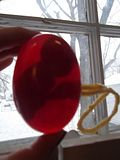 Once I get cleaned up, I plan to run to Hobby Lobby and see about different scents and colors for some other ideas. Yea, I am procrastinating my paper.